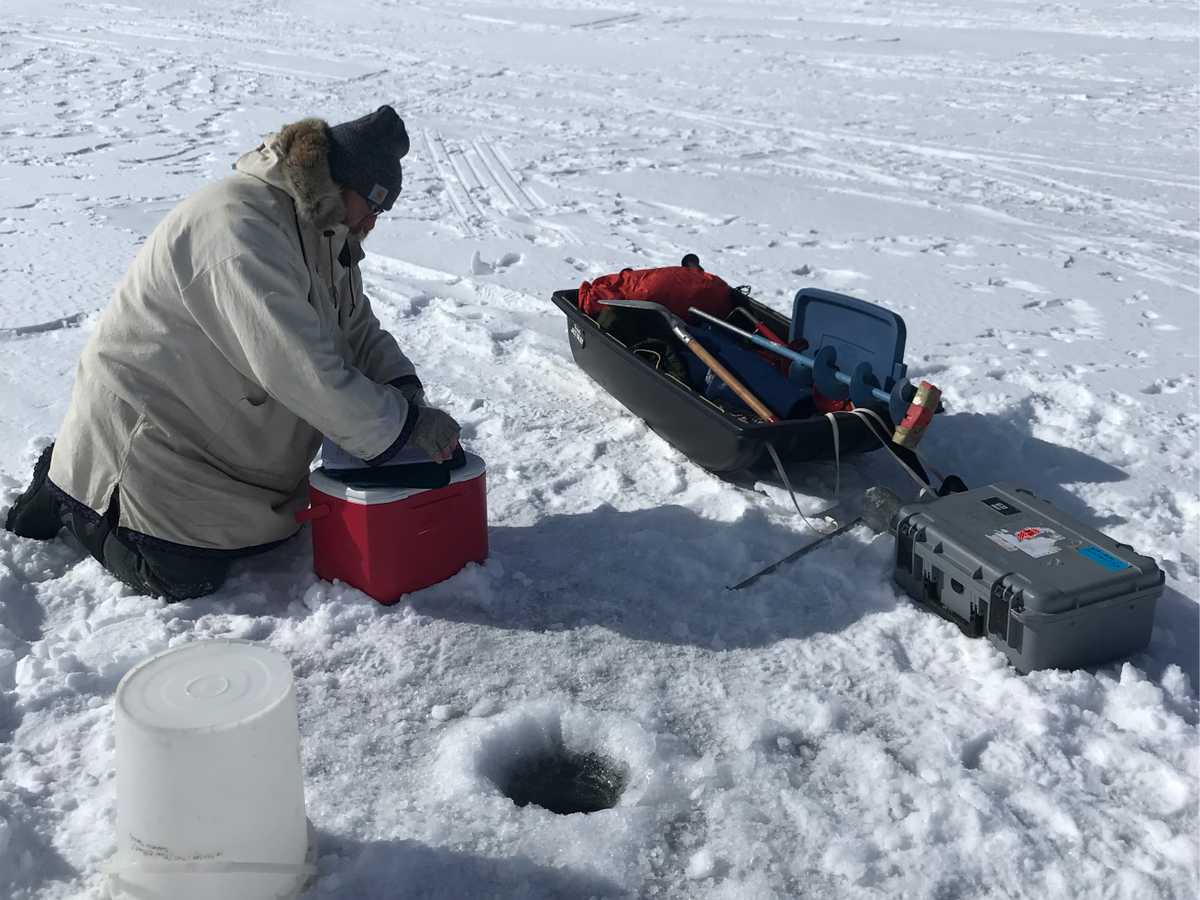 ALMS LakeKeepers program fills winter water data gaps
On a cold, windy March day in Alberta, two figures trudge across the frozen Chestermere Lake, with a sled full of equipment and a small dog named Shelby in tow. Though it is sunny, the two are bundled up head to toe in the sub-zero temperatures.
After walking about 1.5 km to the center of the lake, they pull out their auger and take turns drilling a hole in the ice. To the casual observer, these could be two ice fishers out for a day on the lake. But, instead of lowering a fishing rod into the hole, Mary and Rick lower in a temperature probe.
Mary Kruk (Data Specialist at DataStream), is accompanying Rick Robinson (Chestermere resident and LakeKeepers volunteer), to learn more about the LakeKeepers program of the Alberta Lake Management Society (ALMS).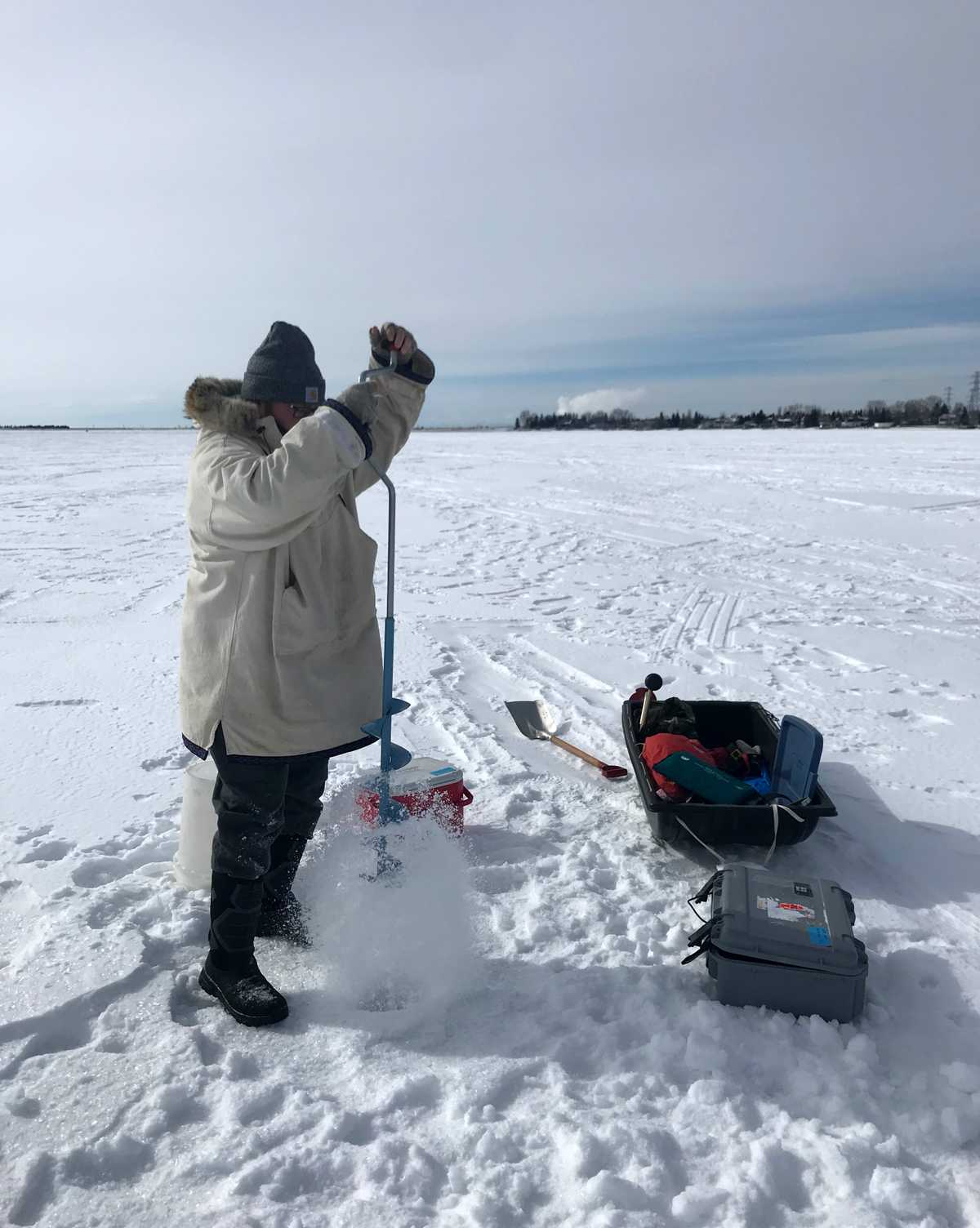 This community-based water monitoring program enlists anglers and water stewards to assess the health of their favourite waterbodies. Program participants are given training and water monitoring gear so that they can independently collect samples from Alberta lakes. The program covers 41 different lakes, ranging from the Oldman watershed in the south, up to the Peace watershed in northern Alberta.
What's really special about LakeKeepers is that they collect water quality data year-round, including in the winter. Historically, winter water data is harder to collect because winter sampling requires special equipment and skills such as knowing how to be safe on the ice. However, winter water data is incredibly important.
"The data contributes to our understanding of stressors on aquatic ecosystems," explains Caleb Sinn, Program Manager of ALMS. "For the winter portion of the program, it is specifically designed to assess climate change impacts, salinization impacts, fish habitat condition, seasonal connectivity of lake dynamics, algal ecology, and lake-groundwater connectivity."
Following the same protocols as LakeKeeper's 59 volunteers, Mary assists Rick as he carefully collects water data from the hole they drilled. They note down how thick the ice is and they use a probe to measure temperature and dissolved oxygen in the lake. They then collect a few bottles of water samples and place them in a cooler. Later that day, the samples will be sent to a lab and analyzed for parameters such as phosphorous, nitrogen, phytoplankton, and salt levels.
The data LakeKeepers collect can help tell a lot about a lake. Winter is often a stressful time for fish, with low oxygen levels that can cause die-offs for certain fish species. Monitoring oxygen can help understand changes in fish populations between years. As well, salt levels in lakes change in the winter. Salts do not get incorporated into ice when it forms, which can lead to elevated salt levels in the lake. Measuring changes in salt in the winter can help monitor problems like road salt pollution.
All of this information can benefit communities surrounding the lakes in many ways. "The program can help determine which lakes may benefit from management activities, and identify lakes that could potentially support viable fisheries," says Caleb. Maintaining management practices with high quality data will help ensure that things like drinking water, swimming, and fishing activities will be safe and protected for years to come.
After Mary and Rick finish their day of collection on the lake, the data is compiled and formatted for upload to Lake Winnipeg DataStream's open access platform. DataStream ensures that the hard-earned data of LakeKeepers will be open and available to maximize its impact. Anyone, from local community members, to scientists, to government officials, can easily go to Lake Winnipeg DataStream and access the data in a standardized format. They can then use this data to inform stewardship actions, research  or freshwater policy in Canada. 
"By equipping, educating, and empowering stewards, LakeKeepers has proven itself to be a cost-effective way to engage Albertans in conservation, to access remote and under-sampled waterbodies, and to fill significant data gaps," says Caleb. Collaborations such as this one between ALMS' LakeKeepers program and DataStream help benefit water communities and amplify the important work of water monitoring groups.